GUITAR IN THE SPACE AGE!
Bill Frisell,
electric guitar
Greg Leisz
, pedal steel & electric guitar
Tony Scherr
, acoustic bass, electric bass guitar & acoustic guitar
Kenny Wolleson
, drums & vibraphone
Danny Barnes:
Is it OK if I asked you what frustrates you about the music business? I mean the traveling, the math part and the geography part. What are some things that make what you're doing difficult? And if I asked you what made you happy about it?
Bill Frisell:
The travel has something to do with it. I don't like sitting on a plane. I just went to Japan. I was in New York for three weeks and that was cool because I was in the same place. Then I went to Florida, and it took me three planes, like 12 hours, to get home. And then I was home for about 16 hours and then I got on another plane and went to Japan. I had to go from Seattle to San Francisco and then San Francisco to Tokyo. And that was all within three days. From New York, to Florida, to Seattle, to Tokyo. I got cheap tickets, there's no oxygen, all my bodily fluids and my kidneys are screaming "what's happening," all my skin is flaking off my face, I can't go to sleep, I'm puking . . . [laughing]. I don't like that part. But then I get to play.
I get to do this, and I'm doing what I always dreamed about. The travel part is just physically hard. That gets me grumpy sometimes. But you were talking about business. I think anything aside from the business takes time to deal with. As long as I keep my mind on the music, I'm usually ok. Sometimes there's a lot going on and it's easy to get sidetracked, just dealing with all the stuff you have to deal with. But I'm lucky that people, are around me who are helping me. My wife is understanding, my manager is a friend . . . I shouldn't be complaining about anything. And I've been with the same record company for almost 20 years, which is kind of unheard of these days. Somehow I just got with these people and they somehow stuck with me all this time. They're supportive and they're sensitive to what it takes to try to keep creative with the music. But whenever it gets away from the music, that's when I get in trouble. If I just get back into thinking about the music, then I'm always cool. When I start thinking about all the other stuff, I start losing it. Does that answer your question?
Anita Maholtra:
One of the two concerts you're giving in June at the Ottawa Jazz Festival is called "Guitar in the Space Age." What is the theme of that concert?
BF:
Actually, what we're doing right now in New York is that project. This is something we've just recorded, and there's an album coming out in the fall. What we're doing is – I don't know if you'd say "paying tribute to" – a lot of electric guitar-based music that I grew up with and that
Greg Leisz
, who plays slide guitar and guitar in the band, grew up with. I was born in 1951 and Greg was born in 1949, so growing up in the '50s and '60s it's pretty much when rock and roll was born, and all the Fender guitars were coming out, and surf music, and it's just this huge body of electric guitar music that came from that time.
I'm 63 years old now, and I've been playing music for more than 50 years, and it's sort of like a research project that looks back at a lot of the music that got me started playing in the first place. You know, some of these things I feel like I'm learning to play for the first time now. So we're playing music by these surf bands –
The Ventures
and
The Astronauts
, and we'll play
Link Wray
or
Duane Eddy
– it goes all over the place. It could go back as far as
Charlie Christian
or
Wes Montgomery
. And then songs by the
The Byrds
or
The Kinks
.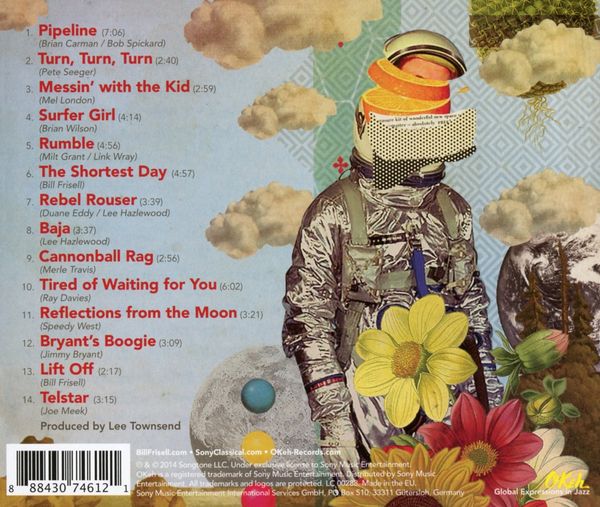 Fred Jung:
When did you begin you association with Bill Frisell and Joe Lovano?
PAUL MOTIAN:
In 1980, '81. They played good. I was trying to put a quintet together and originally, I played one gig in Boston with this quintet. It was going to be Pat Metheny and they was a guitar player and a saxophone player, Julius Hemphill, Charlie Haden. I was trying to put this quintet together and ECM was going to record it. They kept putting it off and putting it off and Pat Metheny recommended Bill Frisell to me. He recommended two people. He recommended Bill Frisell and another guitar player. So anyway, I called Bill and he came over to my house and that is how we met. That was in '80 and we went on our first European tour in 1981. And sure, I liked him right way. I think his sound is different. Around that time or a few years previous to that, I heard Michael Gregory Jackson and that was my first experience hearing a guitar player playing with a synthesizer and getting sound out of the guitar that sounded violin like. That knocked me out and I thought Frisell had that kind of sound. It was a different sound and a sustained sound. I really liked it. We started playing together. First it was with Marc Johnson, a bass player. It was a trio. We were rehearsing that and then we rehearsed with Marty Ehrlich, another saxophone player. And then playing with Marc Johnson, Marc recommended Joe Lovano. And then we started rehearsing with Joe and that is how it started. People recommended people. That is how that started. When I broke the quintet down to a trio, I picked Joe and Bill because I liked the way they played, the way we played together, and we had been playing with a quintet and there were some spots in the music where the bass player would lay out and it would only be me, Joe, and Bill playing and I really liked it. Sure, I recognized that they played well. They played great.
"Some of the songs are maybe more of a tribute to important people from that era, not so much from when I was a kid, but whom I discovered later-on: Merle Travis, Duane Eddy, Jimmy Bryant - kind of a Country-Jazz-Blues hybrid that became part of the fabric of everything I ended up doing," Bill states conclusively.

"And along those lines, we've begun doing "Walk Don't Run" by Johnny Smith, who was an important mentor in the Denver area. He gave me such a big push during the semester in which I studied with him. Johnny led me to really believe in myself, and that I had what it took to make a life for myself as a creative musician.

"We've also started to play "Bumpin' on Sunset" by Wes Montgomery; I learned that song (or as close as I could get) back in the fall of 1967 for my all-school talent show at East High in Denver. It changed my life.

"Funny, though...I never actually saw Wes. My dad bought us tickets. It was a traveling Newport Jazz Festival show at Red Rocks. Wes passed away shortly before that gig. I went anyway: Monk, Cannonball, Dionne Warwick and the Gary Burton Quartet with Bobby Moses, Steve Swallow and Larry Coryell. I didn't know any of these people, except for Dionne Warwick, and my mind was blown...1968, what a year.

"So yeah, you could safely say that much of GUITAR IN THE SPACE AGE! is very personal for me. I mean, the first record I ever bought was this single by the Beach Boys, featuring 'Little Deuce Coupe' on one side and 'Surfer Girl' on the other. Oh, man, those harmonies on 'Surfer Girl' just gave me chills. And while "Shortest Day' and 'Lift Off' are the only originals on the record - serving as instrumental interludes in my mind - I certainly hope to write and introduce more of my own stuff as we evolve and progress. I don't plan to just play what's on this record. There's just so much stuff, so many ways we can go, so many ways we can grow."

Written by Chip Stern