Photo Massimo D'Amato- Firenze Italy-
"Viaggio in autoriflessione" a Lorena Sireno and Eugenio Sanna's installation on a citybus in Pisa
Eugenio Sanna
, born in Genoa, Italy on 1953, is original and versatile guitarist and music therapist, carries out always a research of extreme rigor that knows no compromise. He has participated from 1976 until 1986, to the foundation of the
CRIM
Center for Research on improvisation Music
in Pisa, the city where he currently lives.
Photo by
Christian Rizzo- Roma- Italy
He has performed with the most important contemporary musicians and exponents of improvised music but also with artists from other areas of expression:
Peter Kowald, Derek Bailey, Roger Turner, Edoardo Ricci, John Zorn, John Canale, Tristan Honsinger, Stefano Bartolini, John Edwards, Joseph Chiari, Edward Marraffa, Steve Noble, Luca Tilli, Tony Rusconi, Sebi Tramontana, Thomas Lehn, Tiziana Bertoncini, Esther Lamneck, Eric Lyon, Ute Volker, Eddie Prevost, Patrizia Oliva, Stefano Giust, Paed Conca, Carlo Actis Dato, Mauro Orselli Phil Minton, Liz Allbee, Marco Cristofolini
and many others. Interested in the fusion of different artistic languages, participates in planning and performance with dancers such as
Douglas Dunn, Robert Castle, Cheryl Banks, Manrico Fiorentini, Atsushi Takenouchi, Katie Duck, Charlotte Zerbay, Paola Lattanzi
.
After taking part in the formation of various rock bands, and a country group in the mid-70s he became interested in jazz and improvised music. During this time he performs solo and in duo with Dutch
Peter Cousack
. In the same years, he founded together with other musicians, critics and operators, the
CRIM
in Pisa. It takes part in seminars organized by the center, led by
Martin Joseph, Milford Graves, Gunther Hampel, Leo Smith, Raphael Garrett
and
Steve Lacy
. Parallel develops a thick musical activity playing regularly in jazz bands and experimental music in various clubs of Tuscany. He's also present in in the various concert editions of the I
nternational Festival of Jazz
of Pisa and Florence.
with Roberto Castello Photo F. Salvetti
In the early '80s, he met saxophonist
Carlo Actis Dato
with whom he formed a duo that later became a quartet with the addition of the American singer and saxophonist
Irene Robbins Sauro D'Angelo
; at the same time, she takes part in various events organized by the
CMC
Cooperative of Creative Music
in Turin. He then moved abroad and in London he meets among others,
Roger Turner, John Russell, Taya Fisher, Richard Beswick, Phil Wachsmann, Derek Bailey
.
Some highlights from a long career plenty of concerts and collaborations: In '86, along with
Edoardo Ricci
founded the group
Padouk
, with whom he played the length and breadth of the Italian peninsula and abroad. In '92 he was invited to play in various festivals of the
Contraindications
of Rome, in a trio with
Edoardo Ricci
and
Filippo Monico
and again in '98, in a quartet with
Mauro Orselli
,
Mike Cooper
and
Jean Marc Montera
.
In '94, he met the clarinetist and tarogato player,
Esther Lamneck
. In those years he was invited to participate in interactive works of electronic music, with composer
Ron Mazureck
, musicians
Rene Mogensen
and
Brian Mallery
, the legendary choreographer
Douglas Dunn
, and the ensemble
NYU
.
In '98, he plays in the exhibition
Stupid Millennium
to keep of Bologna, with a formation of electro-acoustic music
Flaming Beauty
with
Massimo Simonini, Edward Ricci, Edoardo Marraffa
and
Mirko Sabatini
. Also in this year, he took part in the festival
Angelica
playing duets with
Edoardo Ricci
and mixed formations with
Hans Reichel, Gino Robair, Luca Venitucci, Fabrizio Spera, Mauritius and Elio Martusciello.
Eugenio also participates in the exhibition
Restless Speed
playing in a trio with
L.Venitucci
and
M. Orselli,
with the association
Jackson Pollock
. With percussionist
G.Canale
, soul playing live, the show
Departures
directed by
Stefano Vercelli
.
Photo Tuia Cherici
"The practice of improvised music, is an imperfect practice, uncomfortable, destabilizing, destructuring, exciting, stimulating that always causes astonishment, fury, love, perseverance, in all people that will discover and will cultivate it with humility, kindness and devotion.
Improvisation is a magic that everybody have inside themselves and that can be discovered to enrich their lifes in an important way. In this way we can improvise with music, thought, words, dance or movement of our body, in a process of fundamental relevance.
Art always chases very personal path, I mean connected with the sphere of the individual meant in his daily routine. But as we well know, in the deepest layers of the human psyche, the creative energy doesn't know limits, blocks, differences."
by Lorena Sireno, visual artist

Since 94 'is regularly invited to give lectures on the improvised music from the Department of Electronic Music and Contemporary Art at the New York University, for the students of that university. For twelve years he has been conducting a music workshop in the penitentiary G.Don Bosco in Pisa and from 2001 he is conducting two workshops with expressive and therapeutic purposes, for the association of psychosocial rehabilitation L'Alba, in the same city in which he lives.
Teatro Rossi Aperto Pisa, "Il suono dell'improvvisazione " festival.
Edoardo Ricci, Eugenio Sanna, Cristina Abati.

Photo by Zaira Cestari
Currently he is the creator and host of the permanent workshop
The sound of improvisation
, whose objective is to spread through the didactic training, the musicians and the audience, the art of improvisation and which is held every fourth Friday of the month at the
Theatre Rossi
Pisa.
Photo by Cristina Avanzinelli- Lucca Italy
What do you remember about your first approach to sound?
When I was a child, I fall asleep listening to the screeching of trams on rails.
How's your musical routine practice?
I practice every day with scales, arpeggios and chords
What's the relevance of technique in music, in your opinion?
The technique is useful in order to evoke by means of it one's sound-musical soul.
Depict the sound you're still looking for, or the sound you'd like to hear.
Sounds presented to us we look for them.
Which is the main pleasure of the strings? What are their main limitation?
The roughness and the asperity given by the rough strings: there are no limits to the kind of sounds they can produce.
Can you describe a sound experience that you believe contributed to your becoming a musician?
Listen to night trams wich passed in the street under my house
What do you recall about your playing learning process?
To play my first electric guitar, an italian
Zero Sette
solid body after I insert a paintbrush among the strings.
What is your relationship with other art disciplines?
My musical relationship with painting, literature, dance, theatre and let's say also dreams, is of interaction with these different languages.
Where are your roots? What are your secret influences?
Dreams affect me constantly and their messages always induce me to look for my roots in all senses.
Dancer Manrico Fiorentini
What would you enjoy most in an art work?
In any case to improvise is main for me.
What quality do you most empatize with in a musician?
Every musician, through music, speaks about himself to the listener in an empathetic way.
What is some valuable advice that someone has given to you in the past?
As
Freddie Green
stated: "before you play hang your jacket to the chair ".
What projects are you working on now and what does the future hold?
In this moment I'm carrying out as the creator the workshop and the improvised music exhibition
Il Suono dell'Improvvisazione.
I'm working on a the new CD with a ten elements band: a real orchestra that completely and totally improvise.
by Lorena Sireno, visual artist
Selected Discography
1988 Padouck
Splasc(h) Records
1997 Lo Scorfano Miracolato
Edoardo Ricci Eugenio Sanna
Burp Sonic Inventions
1997 Improvvisazioni
Frigorifero Production
1998 Improvvisazioni Quartetto
Mike Cooper, Jean-Marc Montera, Mauro Orselli, Eugenio Sanna
Ada Records
2000
Trio Improvisations
Rene Mongensen, Esther Lamne

c

k, Eugenio Sanna
Knitting Factory
1999 Sunset Boulevard
Tony Ruscony Orchestra
VM Boxes Ed.
2000
The Tower of Ping Pong
Nicotina
Burp Sonic Inventions
2000 Spices
Lenoci Sanna Orselli
AFK Records
2000 Le Sette Premonizioni Ortofrutticole
Edoardo Ricci Eugenio Sanna
Burp Sonic Inventions
2002 Habanera
Tony Rusconi Orchestra
WM Boxes Ed.
2002 Jodel del Segafanciullo
E

-N.E.E.M. Project
Burp Sonic Inventions
2002 Blues on Blue
Tony Ruscony Orchestra
W M Boxes Ed.
200

5

Ospiti
Luciana Manca
Self Released
2005 I segnali della ritirata
E

doardo

Ricci

-

Eugenio Sanna

-

Roger Turner
Burp Sonic Inventions
2006 "Arte 3-Arte 4"
Tony Rusconi CLOWNERIE PROJECT
W M Boxes
Ed. Forum della Musica
Amirani Records
2008 Live At Ex-Mental Hospital S. Maria Della Pietà - Roma 1/8/2008
Mike Cooper / Eugenio Sanna / D.B.P.I.T. / Cris X
CX Records, Dischi Gatto Alieno
2008
1/4
Jealousy Party Plus Eugenio Sanna
Burp Publications, Setola Di Maiale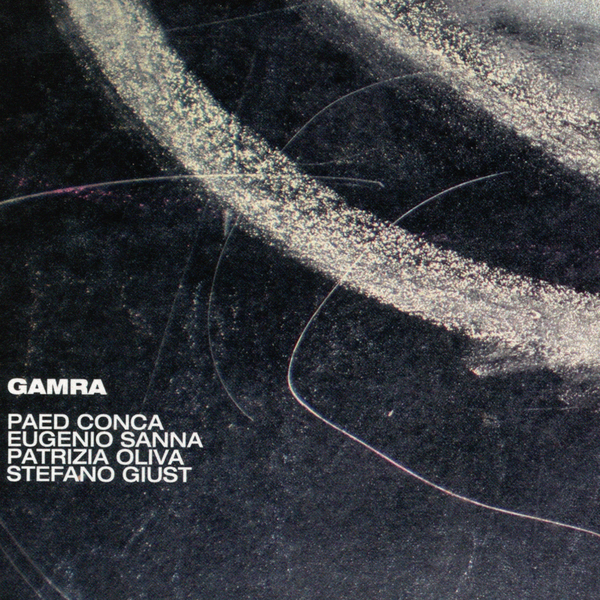 2011 Gamra
Paed Conca, Eugenio Sanna, Patrizia Oliva, Stefano Giust
Setola Di Maiale SM1940
2015 La porta stretta
with Claudia Caldarano and Beppe Scardino
Web
|
Facebook
|
Soundcloud
|
Interview
|
Contact
13 Questions INDEX
Prepared Guitar Facebook
Photo Riccardo Romeo Pisa-Italy