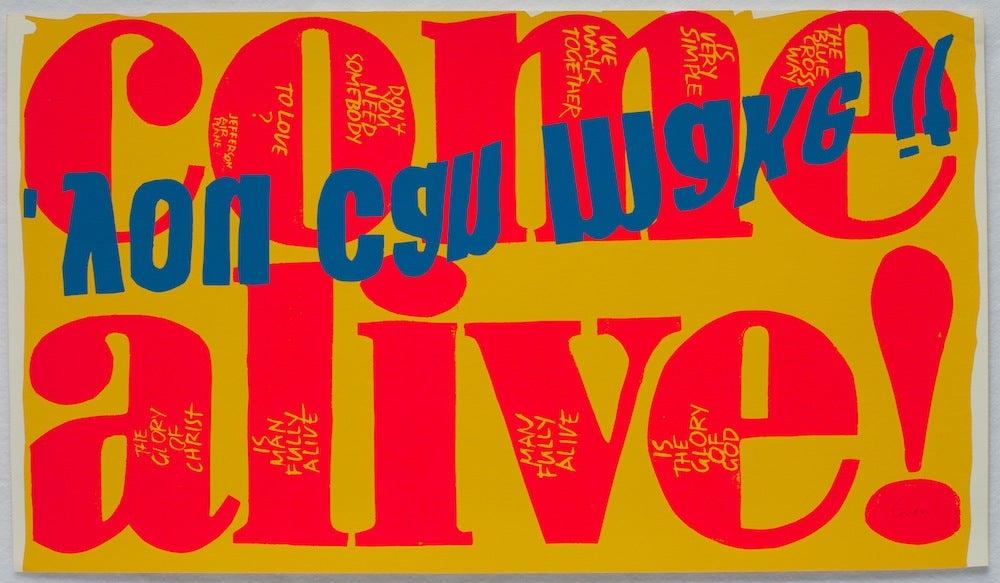 Legendary choreographer, Merce Cunningham kept these rules hanging in his studio. Given to him by longtime partner, John Cage, they were written by
Sister Corita Kent
in 1967-68 as part of a project in a class she taught. Corita Kent (November 20, 1918 – September 18, 1986), aka Sister Mary Corita Kent, was born Frances Elizabeth Kent in Fort Dodge, Iowa. Kent was an American Catholic nun, an artist, and an educator who worked in Los Angeles and Boston.
She worked almost exclusively with silkscreen, or serigraphy, helping to establish it as a fine art medium. Her artwork, with its messages of love and peace, was particularly popular during the social upheavals of the 1960s and 1970s. After a cancer diagnosis in the early 1970s, she entered an extremely prolific period in her career, including Rainbow Swash design on the LNG storage tank in Boston, and the 1985 version of the United States Postal Service's special "Love" stamp.
Merce Cunningham Studio
10 Rules For Students and Teachers
Rule 1
Find a place you trust, try trusting it a while.
Corita Kent, the juiciest tomato of all, 1964
Rule 2
General Duties as a Student – Pull everything out of your teacher. Pull everything out of your fellow students.
Rule 3
General Duties as a Teacher – Pull everything out of your students.
Rule 4
Consider everything as an experiment
.
Rule 5
Be self disciplined. This means finding someone wise or smart and choosing to follow them. To be disciplined is to follow in a good way. To be self disciplined is to followion a better way.
Rule 6
Follow the leader.

Nothing is a mistake.

There is no win and no fail. There is only make.
Rule 7
The only rule is work. If you work it will lead to something. It is the people who do all the work all the time who eventually catch on to things. You can fool the fans, but not the players.
Rule 8
Do not try to create and analyze at the same time. They are different processes.
Rule 9
Be happy whenever you can manage it. Enjoy yourself. It is lighter than you think.
Rule 10
We are breaking all the rules, even our own rules and how do we do that? By leaving plenty of room for X quantities.
Helpful Hints
Always be around.
Come or go to everything.
Always go to classes.
Read everything you can get your hands on.
Look at movies carefully and often.
SAVE EVERYTHING. It may come in handy later.