Historically speaking
In 1956 Elvis Presley hit the U.S. Music Charts and got his first number one with "Heartbreak Hotel" furthermore he made his debut in the Ed Sullivan show. Elvis's first movie, "Love Me Tender" also premiered this year.
Other legendary names during this period in time were Bill Haley and the Comets, Chuck Berry, Jerry Lee Lewis, Johnny Cash, Ella Fitzgerald and Dean Martin. A young Roy Orbison signed his first record deal with Sun Records.
Guitars - The Scrapbook (link below)
The major guitar manufacturers took notice of these new musical phenomena. As early as in 1952 Gibson collaborated with the popular guitarist Les Paul who together with Ted McCarty designed Gibsons most popular guitar to date—the Les Paul. In 1958, these models came in two colors that went from a bright centerpiece to dark around the edges, the 1958-60 Gibson Les Paul Standard.
Gibson Les Paul Sunbursts from 1958-60 are today considered the most sought after guitar model and command prices well over 350 000 dollars for an original. Just under 2,000 copies were produced during these years. Original meaning that nothing, absolutely nothing, has changed or that none of the hardware has been replaced since the instrument left the factory. Fender introduced the first mass produced solid-body electric guitar, the Broadcaster in 1950. The legendary Stratocaster was presented in 1954.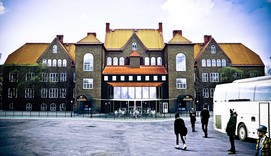 During the beginning of the fifties the name Broadcaster was withdrawn because of a name conflict with another manufacturer, Gretsch, who had a drum kit named Broad Kaster. Fender decided to bend and changed the name to Telecaster, after the new popular medium, television. For a short period in early 1951, the model had no name on the headstock and these guitars have since been termed Nocasters. These two manufacturers, Gibson and Fender, would come to be of great importance to the protagonists of our continuing story. In 1956 Elvis hit the charts in the USA, at the same time, in the cold north of Sweden, two twin brothers were born. Samuel and Michael Åhdén.
The Twins
Twin brothers Samuel Åhdén and Michael Åhdén, have a deep rooted interest in old vehicles, primarily American. It all began in the1960s when the brothers spent their summer holidays at their grandfather's house. He ran a cab company and had a fleet that exclusively comprised of American cars. Grandpa's interest in cars was also visible on his desktop, where a distributor cap from a twelve cylinder engine was used as a pen holder. Their grandma visited auctions as often as the opportunity arose, and the boys were not slow to follow. - We were raised at auctions and therefore we became who we are, the brothers state.
Even at a young age they could have become owners of a 1956 Chevrolet standing in their grandfather's barn, but as the boys mother did not approve, the car was sold to a young couple. This was remedied in 1976 when a 1954 Ford Crestline was purchased. The car was customized in line with the trends of the time. At this time Samuel and Michael had an identity crisis. They looked like hippies with their long hair, headbands and afghan fur coats, but at the same time, old American cars and Rock'n'roll were all they could think about. They strode in to the barber and asked for a rockabilly hairdo. The hippie era was ending.
Their Ford 54 Crestline was rolling until 1985 when the Swedish Motor Vehicle Inspection imposed it with a driving ban. The car was stored in a barn until 1993 when a car enthusiast appeared and bought it. The new owner restored it back to pristine condition. Four years later, in 1997, the urge for the car was so strong that Michael bought it back. Their great interest in music began in the mid-1960s, when the brothers used to follow their mother to the corner shop to buy sweets and magazines. One of the magazines featured an article on the Rolling Stones, a band that made a huge impression on the brothers.
It would take another three years before they could actually grab a guitar and take their first chords. With the help of a neighbor who owned a Gibson Les Paul Custom and a Marshall amplifier they could learn Chuck Berry songs. The kind neighbor kept his house open for the boys and they were rockin' ? those three chords night after night. There, they heard a record with John Mayall's Bluesbreakers featuring guitar player Eric Clapton. The groups brutal guitar sound knocked the brothers out. At the time, rock and blues albums were not easy to get hold of, and had to be specially ordered from the record store. The picture on the cover of Eric Clapton with his Marshall amp and a Gibson Les Paul Standard 1958, sparked the start of collecting guitars and amplifiers.
In 1973, the family went on a holiday trip to Stockholm, the capital of Sweden. The boys made a visit to the guitar guru Halkan and his music retail store, Rock House. At Halkans place they found a mecca with lots of Fender and Gibson guitars.
In the summer of 1976, Samuel planned a trip through Europe. A considerable sum had been saved for this purpose, but before he set foot on foreign soil Samuel wanted to pay Halkan a visit and there it was, the long awaited for Gibson Les Paul guitar. This resulted in that the vacation budget was minimized by about 95%. But the guitar was in the can.
The brothers Åhdens see links between the U.S. auto industry and the 1950s and 60s Gibson and Fender Guitars. The president of Gibson, Ted McCarty, hired car designer Ray Dietrich to design a guitar that would have popular appeal. Under Dietrich, the Firebird took on the lines of mid-50s car tailfins. DuPoint car paint was used, sometimes with metallic finish. These metallic painted guitars are rare and highly valuable collectors items.
Brothers Samuel and Michael say that the American '50s cars, guitars and music, as well as the jeans and the boots have a common denominator: a bygone era and a culture that is very much worth preserving.
Preservation of cars, guitars, juke boxes, drums and other popular historical things from the 50s and 60s are those closest to these guys hearts. Today they have a unique and extremely sought after collection of guitars, basses, amplifiers and props, worth millions of dollars.
The Fender Broadcaster episode - one of hundreds of guitars in the collection, but a rare "bird" indeed.
A Fender Broadcaster is one of the finest instrument a guitar collector can have in their collection as only about 200 of them were made, with only few of them still in their original condition. In the late seventies the twins nurtured their dream of getting hold of one of these rare guitars. During this time, the conditions for collecting guitars were different than today. The number of guitars on the market was obviously higher but with no access to contact areas such as the internet, email and social media, the brothers had to rely on handwritten letter correspondance with other enthusiasts such as Norman Harris, George Gruhn and Larry Briggs.
Gruhn had shipped one Broadcaster to Halkans Rock House in Stockholm, but Halkan was not keen on selling his pearl. The brothers were, at this time, in contact with a guy in London who went by the nickname The Greek. This guy, on the other had a well known friend in London - David Gilmour, the guitarist of Pink Floyd. The Greek phoned Michael Åhdén and told him that he was at Gilmour's office and had a Broadcaster in his hands. Gilmour was willing to sell the guitar for about 5500 pounds - a considerable sum that the brothers, at that time, could not afford.
The Greek kept searching. One day he heard a story about a guitar dealer in Washington, Gil Southworth. Gil had received a phone call from a customer that needed help with a guitar. When the guitar was brought into the shop Gil realized from just seeing the case, that it was a one of the highly sought after Fender Broadcasters. When he opened the case, the guitar was in virtually mint condition with all its original parts still in place. The owner, who had bought the guitar when it was new from the factory, 30 years earlier, willingly sold it to Gil. After hearing this story from The Greek, the twins asked him to make an offer for them. Gil agreed to sell it, and finally the guitar was theirs. The guitar was shipped across the Atlantic to the northern part of Europe.
This all happened in the mid eighties. One of the world's rarest and most sought after guitars was finally at home with the twins in Umea, Sweden.
There it has been ever since and now it is ready be exhibited at GUITARS - The Museum, accompanied by hundreds of other rare guitars.
Entré/Admission
Vuxna/Adults: 125 sek
Studerande/Students: 90 sek
Pensionärer/Seniors: 90 sek
Skolklasser inom Umeå Kommun - fri entre på måndagar och tisdagar. Förbokas.
Barn/Kids: Gratis/Free of charge
Online tickets
Öppet/Open
Måndag/Monday - Lördag/Saturday 12:00-18:00
Söndag/Sunday - Vilodag / Day off
Guidade turer/Guided Tours. 3 times/day
Måndag/Monday -
Lördag/Saturday 12:00 & 15.00 & 17.00
Obs: Den guidade visningen tar ca. 45 minuter och förbokas inte. / The guided tour takes 45 min. Drop in.
Privata guidade turer / For private guided tour, please check the link below...
Klicka här
Upcoming guest exhibiton. Hot Rods & Classic Rock - presented by Timeless Art / Ulf´s Pictures
Gästutställning i museet: 2016.09.03