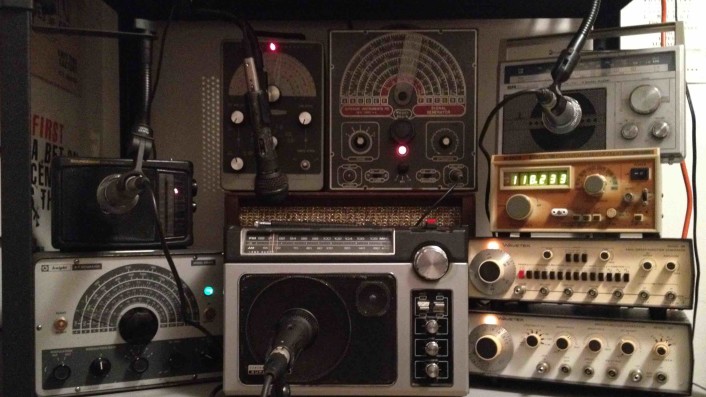 David First.
Hi All -
Just wanted to tell you about a couple of pretty exciting things going on around here. Firstly, I recently received a very generous grant from NewMusicUSA in support of my serial album-in-a-month project, SAME ANIMAL, DIFFERENT CAGES. The grant will allow me to release all the things I've been up to since the project started earlier this year, plus many more things down the road apiece. Much gratitude to them..

So far, I have recorded three albums and am currently working on a 4th, including The AM Radio Band which was released on

Robert & Leopold

tapes a couple months ago.
You can read a nice review and hear a track here:
The next album in the series, Études for Acoustic Guitar will be a vinyl release in January, 2016 on Fabrica Records - more about that as things get closer. Fabrica will also be putting out all subsequent SAME ANIMAL, DIFFERENT CAGES LPs, CDs, plus a DVD of my video works. The Études album will be followed by an analog synth album, a solo harmonica album, sitar, electric guitar, piano, misc. percussion, droneworks/minimalist noiseworks featuring members of my ongoing Western Enisphere troupe, and some inevitable hybrids/new lifeforms that will inevitably burst out of the primordial ooze as we evolve along the twisting timeline.

Meanwhile, you can hear a preview track from the Etudes album
Nextly, I have decided to, once again, embark on the rather daunting task of rummaging through the magnetized evidence of my musical past. Slowly, over time, for a project I am calling DATA DUMP, I will be uploading dozens of hours of digitized files from various sources including a mountain of cassettes, 4-track portastudio masters, DATs, ADATs, video cassettes, and various reel-to-reels (1/4", 1/2", 1" and at least two 2" tapes), ALL available for downloading/streaming.

I have found things I forgot I had, things I figured were long-gone, and things I never knew I had to begin with. There's cool basement rehearsal jams, live shows at legendary spaces both in the US and elsewhere, and actual official, but never-released recording sessions, all starting from somewhere in the mid-70's (a bedouin-istic acoustic jam group called Batterie featuring all three future NKs plus guests) all the way up to the late 90s through-composed commissioned pieces I wrote for various marvelous soloists and ensembles, with stops along the way for two or three noisy, free jazzy-droney electric bands (Echoes of God, Joy Buzzers, the Koan Pool), a piece called Bar Mitzvah Exorcism (live at John Zorn's Radical Jewish Culture Fest) , my opera - The Manhattan Book of the Dead, The World Casio Quartet, my first NYC large ensemble - The Flatland Oscillators, piano solos, noise guitar/beatbox jams, early radio frequency experiments, and much more.

--------------
"A body of work that's remarkably varied yet consistently focused…and ranges from the blazing to the ethereal." - Kurt Gottschalk (from the liner notes to Data Dump #1)
The plan is to *dump* a new batch of material online maybe every six weeks or so. At that time I will be informing those who care to partake.
BTW, 99.9% of this will be free downloads. I may charge a buck or few at some point for a handful of premium goodies…we'll see.

Anyway, go here to check out the first month's installment of DATA DUMP:
Thanks for reading/listening…cheers!