Photo by Chris Brinlee
Veteran blues and jazz guitarist
Walter Parks
has built an international career as the lead guitarist for Woodstock legend Richie Havens, as half of the folk-duo
The Nudes
, and as leader of the neo-southern rock group
Swamp Cabbage
. Just as Georgia's Okefe nokee Swamp has served as the headwaters of Florida's Suwanee River, so has it served as the inspirational headwaters for Walter's unique guitar concept – a banjo-esque fingerpicking style that toggles between expressing the swamp's foggy, ambient underbelly and it's eminent danger via the use of a modicum of pleasant distortion. Inspired by the sultry black gospel that wails from storefront churches and roadhouses in the American southeast, Parks's raspy vocal lows and soaring operatic falsetto explore the frontier of the modern human spirit in search of a place where it can flourish.
Born and raised in Jacksonville, Florida at a time when classical music was offered in public schools, Parks began his music career studying the viola in the sixth through eighth grades. After a transition to the guitar in 1973 he formed his first group, The Parental Tears Band (an ode to their parents' shared dread that their offspring would pursue music careers). Succumbing to his parent's advice that he lay the foundation for a more stable career, Parks enrolled in business school at the University of Georgia in Athens. Parks recalls "Unfortunately the fall-back strategy ultimately backfired as I became disillusioned with the mentality of making important decisions only in allegiance to the bottom line. I withdrew one year short of graduation. The best the thing about college was serving in the Student Union organization that promoted big concerts. Our budget was astronomical, our allegiance was to quality and most shows made money. I was fascinated by concert booking and production and I stayed to the bitter end at every load-out and roadies loved me. I learned that great reward could follow extra effort, for after a Dixie Dregs show I had the opportunity to play Duane Allman's 1959 sunburst Gibson Les Paul, which at the time was in possession of Dregs' road manager Twiggs Lyndon. I still feel the power and magic of that cherished guitar, which is now on display in the Rock and Roll Hall of Fame."
In the early 1980's, Parks returned to his hometown to form a fusion jazz band called Sneakers. "It was an exciting time when we could draw 200 people every Monday night on instrumental music alone" Parks states. Managing his own clothing store by day, Walter took quarterly buying trips to New York where he became magnetized by Manhattan's pace and serious music scene. To fund his eventual departure from Jacksonville Walter created a society band called The Wing Tips taking full advantage of the prosperous Regan years. In 1989, after winning a Tangueray Rocks talent contest piloted by rock impresario Don Kirschner, he took his first original electric band Dear John, to New York.
By 1991, burdened by the logistics of running a band in the big city, he simplified and formed an acoustic duo called The Nudes with cellist Stephanie Winters. The Nudes recorded three albums and enjoyed a successful career touring U.S. colleges and folk festivals, serving for a short while as Richie Havens' support act.
Road-weary and searching for a new perspective, in 1999 Parks traveled to Plum Village, Tich Nat Han's Buddhist monastery in southwest France. Allowing himself time to reboot and reflect, Walter refers to the adventure as "the best vacation I've ever taken – living amidst unparalleled beauty, in complete tranquility, with plenty of time to listen to my life. Up until my very last day in the monastery, I told no one that I was a musician just to find out what was left of me, without the guitar as my identity."
In 2000 Parks returned to New York in a business role as a label manager for indie MPress Records however in 2001 the New York scene re-ignited Walter's urge to perform and he was asked to join Richie Havens' trio. "Accompanying Richie from 2001-2011 and hearing that wonderful voice by his side on stages all over the world was incomparable honor. The grandest shows were at Madison Square Garden, Carnegie Hall, The Cannes Film Festival in France and The WOMAD Fests in New Zealand/Australia but nothing compared to the frenzy Richie would incite at The Jazz Cafe in London."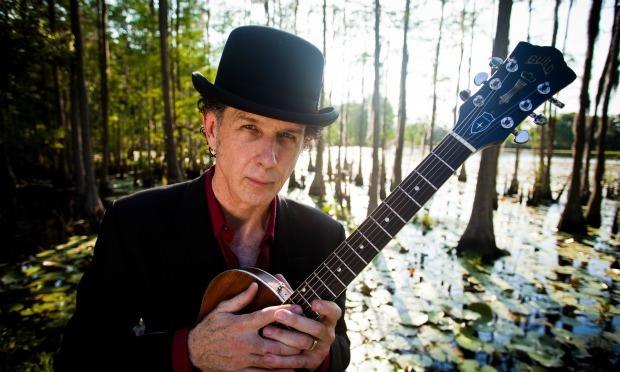 Photo by Chris Brinlee
"My first move to New York, in a sense had been an attempt to shed any influence that my Florida roots might have had on my playing. I was chasing other styles –mostly European. Hopelessly, everyone seemed to notice the southernness in my music. One day it hit me that I already had what myself and every other artist comes to New York to find and/or exploit – a unique style. I therefore accepted that my path would be to develop the swampy North Florida sound rather than to obscure it." Walter formed Swamp Cabbage and used any down time in Richie's schedule to meticulously craft three fine analog recordings–Honk, Squeal and Drum Roll Please. Since Richie's retirement in 2010 and passing in 2013, Walter has been focusing on Swamp Cabbage and solo performances. The band's fourth CD "Jive" is due out soon.
with Richie Havens
Parks' various music projects express both his diverse background as a musician and balance distinct parts of his personality. "I'm as comfortable with rural culture as I am with so called "high society." I enjoy doing construction, chatting with locals and driving my Ford F-150 through the Georgia back woods, but I also enjoy throwing on a nice suit and taking in a New York museum."
It's a wonder that I even like music. My father used country and gospel radio to annoy the whole family. Instead of rising to an alarm clock, my dad would wake the home with Tammy Wynette or Conway Twitty at full blast. We were taught that Southern culture was beneath us, yet all the while knowing deep down that we were dead level with all things Southern just like the rattlesnakes and palmettos. I didn't even notice my own Southernness until I moved to New York. Once there, I built new songs upon images of my boyhood times in Florida swamp country and the Carolina hills. A new guitar style emerged that's part dixieland banjo and part lap steel.
My songs always honor the South and sometimes poke fun at it. Being a Libra, I need an artistic forum to balance comedy and tragedy much like the theater. To that end I've created the mostly satirical Swamp Cabbage, whilst my solo work is the sound stage for my emotional and pensive adventures.
For the last six years I've recorded and toured the US, Europe, Canada, Australia, and New Zealand with Woodstock legend Richie Havens — whose latest release is on Universal/Polydor France. During time off from shows with Richie, I play festivals and do short tours with Swamp Cabbage and occasionally perform solo. —Walter Parks
Which was the first record you bought with your own money?
Dennis Coffee and the Detroit Guitar Band — "Goin' for Myself." 1972.
Which was the last record you bought with your own money?
Broadcast — Extended Play.
What was the first solo you learned from a record — and can you still play it?
"One of These Nights," by the Eagles. Admittedly un-cool and unfashionably recent, but a damned good solo nonetheless. Yes. I relearned it, ashamed at the thought of answering no.
Which recording of your own are you most proud of, and why?
The song "New Mexico" on my upcoming solo debut has a full and lazy lushness that was accomplished without a single keyboard.
What's the difference between playing live and playing in a studio?
Privacy. Entertainment is a social act and improvisation is a private one. I love them both. An audience wants to believe that magic just happens right before its eyes, and as entertainers we are vendors of this illusion. If I am able to ignore the dynamic of being watched — thereby creating a mental state of privacy — I can improvise an interesting solo. On the other hand, self-consciousness — the Petri dish of banality — seems to be a prerequisite to the act of entertainment. I am not a quick study in the studio, but I can proudly say that nothing I approve to tape is common. My studio process is to improvise until I discover something that is worthy of being memorized and recorded. A good studio experience is spiritual for me, and sometimes too powerful.
What's the difference between a good gig and a bad gig?
If the sound is good, I will play well and the event gets archived in my memory as a good gig. I used to care more about how many people showed up or into what degree of a frenzy they might have been whipped. These days, dodgy P.A.s and lame engineers make me want to take up some other line of work.
What's the difference between a good guitar and a bad guitar?
A good guitar gives me a new song or a new riff. I could give a toss if a guitar plays like butter.
You play electric and acoustic. Do you approach the two differently?
Yes. For me an acoustic guitar is a woman. She beautifully responds to finesse and empathy. An electric guitar is a masked male wrestler who moans in agony when he's thrown to the mat and pinned for a three count.
Do you sound more like yourself on acoustic or electric?
Electric.
Do you sound like yourself on other people's guitars?
Yes.
Which living artist would you like to collaborate with?
Jim Keltner
Which dead artist (music, or other arts) would you like to have collaborated with?
Tom Dowd
What's your latest project about?
Feeling in sounds. I tried to make a record that sounded like the way I feel. When I'm troubled or when I'm just letting my mind wander, my "thoughts" often take form as "melodies" — perhaps because I'm very inarticulate on the fly. This record is a compilation of my favorite mental soundtracks from over the last ten years.