Tim Olive and Alfredo Costa Monteiro A Coruna, Spain, 2010 Photo Victor E. Perez
Tim Olive
has been writing about himself in the third person since the beginning of this century, when he left his minimal-prog-noise-rock band Nimrod, rejecting periodic rhythms and tempered pitch in favor of improvisation and open forms, exploring the full sonic possibilities of steel strings, magnetic pickups and simple analog electronics.
Tim Olive/Katsura Mouri Kyoto, 2012 Photo Minoru Ikekita
Extensive live action in North America, Asia, Europe and Australia has provided opportunities to play with a wide range of musicians in event-specific one-off contexts, as well as ongoing collaborations with Alfredo Costa Monteiro, Jason Kahn, Makoto Oshiro, Takahiro Kawaguchi, Jeffrey Allport, Cal Lyall and others. Recent collaborators include Jin Sangtae, Madoka Kouno, Joe Foster, Crys Cole, James Rushford, Darren Moore, Ryu Hankil, Choi Joonyong and Che Chen.
Supertoque (Kelly Churko/Tim Olive/Cal Lyall) Tokyo, 2011 Photo Jamie Lee Reed
A Canadian residing in Kobe, Olive has CD releases on Japanese, European and North American labels, receiving positive reviews in Musicworks, Signal To Noise, The Sound Projector and The Wire magazines. Upcoming releases include recordings with Nick Hoffman, Anne-Francoise Jacques, Crys Cole, and Martin Tetreault. He launched his artist-run label 845 Audio in 2012.
Tim Olive (electronics) とHACO (electronics)@Guggenheim House
What do you remember about your first live performance?
I was 12 or 13. Maybe 1976? I played bass in a trio, we played at our school in a little town in Saskatchewan. Rush, Black Sabbath, ZZ Top, Thin Lizzy, Kiss. I had a black P-Bass copy.
Why do you need music? Can we live without music?
I can live without "music", but I need sound.
What is the main pleasure of the guitar? What is its main limitation?
I love the direct, tactile expression that comes with an electric guitar and I also love the fact that what goes on in the room can come back through the instrument (especially low frequencies, when the instrument is played on a table) and become another element in the music.
Every instrument has a limited range of timbres, but I like to push against that.
Which work of your own are you most surprised by, and why?
I'm always surprised by playing with others because the experience allows/forces me to transcend myself, and my own tendencies, to a certain extent. When, for example, a duo plays together, it's not just one person and another person; something else happens, and that's the surprise. I don't enjoy playing solo because the surprises don't happen as much.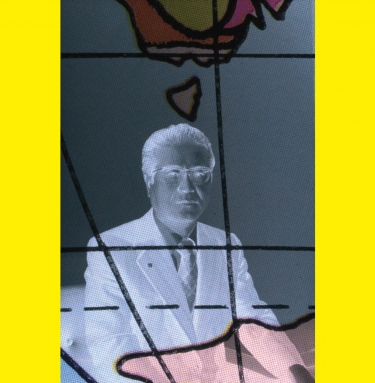 Where are your roots? What are your influences?
I lived in a small prairie town, pre­-internet, so I had to dig for everything. Black Sabbath and Kiss were easy to find, but I had to dig for Monk and Mingus, which lead to other jazz. Then it was punk, which I heard a year or so late, then the great post­punk surge with Gang of Four, Pere Ubu, Joy Division and others. The Minutemen. And then reggae. I still listen to a lot of reggae. Then finally I discovered early "serious" electronic music and musique concrete.
Alfredo Costa Monteiro/Tim Olive Leiria, Portugal, 2010 Video: Joao Dos Santos
Tell me one musical work which has provoked a change in your music.
I moved to "the city" when I was 16, and there was an LP library. I heard a lot of non-­Western music. One album that really got me was "Langen Mandra Wanara" on Ocora. It was a box set of Javanese Gamelan music. Everything was so fresh: the pitch/tuning systems, the dynamics, the timbres. That album really opened things up for me.
Define the sound you're still looking for, or the sound you'd like to hear.
I'm going for something that is electric but also organic. Something like a live musique concrete, combining the energy and freedom of improvisation with the unpredictability and timbral magic of tape/electronic music.
Crys Cole/Jeffrey Allport/Tim Olive Trio Winnipeg, 2011 Video: Robert Szkolnicki
How would you define the present time in musical terms?
It's an exciting time of extreme multiplicity.
Tim Olive and Alfredo Costa Monteiro A Coruna, Spain, 2010 Photo Victor E. Perez
Why do you use extended techniques on guitar?
I want different sounds, more possibilities.
Ryu Hankil/Jin Sangtae/Choi Joonyong/Tim Olive Seoul, 2012
What is some valuable advice that someone has given to you in the past?
I can't think of any specific verbal advice, but I've learned a tremendous amount just by playing with people. That's when the magic happens and that's when you really learn.


What gear do you use?
I use a sort-­of­-guitar with one tuning peg, one string, a chopped­down body and two DiMarzio pickups. I run it through a SansAmp VT Bass preamp, usually with a fuzz (often an octave fuzz) in front. I use a delay pedal occasionally for reverb­-type sounds. Everything is analog. I find it's easier to really concentrate if I have fewer options, and I don't think using the newest technology necessarily equates with forward­-looking music.
Katsura Mouri/Tim Olive Kyoto, 2012 Video: Minoru Ikekita
What is the most recent musical idea that has attracted your attention?
When I read I often find ideas that I agree (or disagree) with, but that all comes after the fact. My work isn't theory­-driven.
What are you currently working on?
I just released a duo CD, "Two Sunrise", with Jason Kahn, on my label 845 Audio. I've got a CD with Nick Hoffman coming out soon on the excellent Copy For Your Records label. In various stages of completion are releases with Martin Tetreault, Anne­-Francoise Jacques, Jin Sangtae, Crys Cole,and Cal Lyall. And some trio recordings with Makoto Oshiro and Takahiro Kawaguchi. Some of those releases are still looking for a home so I'd be happy to hear from any interested parties. I'll be doing a series of shows with Jason Kahn in May, and heading to New York in October for some shows and recording.
Tim Olive and Alfredo Costa Monteiro A Coruna, Spain, 2010 Photo Victor E. Perez
Jason Kahn + Tim Olive
Two Sunrise (845 Audio, 2014)
Katsura Mouri + Tim Olive
Various Histories (845 Audio, 2013) Reviews
Tim Olive + Alfredo Costa Monteiro
33 bays (845 Audio, 2012) Reviews
Kikuchi Yukinori + Tim Olive
base material (TestToneMusic, 2012)
Alfredo Costa Monteiro + Tim Olive
A Theory of Possible Utterance (Zeromoon, 2011)
Kikuchi Yukinori + Tim Olive
Difference and Repetition (TestToneMusic, 2010) Reviews
Tim Olive
The Specialist (EM Records, 2009) Reviews
Tim Olive/Francisco Meirino
Eagle Keys (Even Stilte, 2006) Reviews
Tim Olive/Bunsho Nishikawa
Supernatural Hot Rug And Not Used (EM Records, 2006) Reviews
Tim Olive/Fritz Welch
Sun Reverse The Footpedal (Evolving Ear, 2004)
Tim Olive/Bunsho Nishikawa (Gule Disk, 2003)
Tim Olive/Jeffrey Allport (Infrequency, 2002)
Nimrod (Scratch Records, 1997)
Nimrod
The Mighty Hunter/Lab 36B (Scratch Records, 1994)
Nimrod
Grandson of Ham (Scratch Records, 1992)
Upcoming releases with: Nick Hoffman, Horacio Pollard, Toque (Kelly Churko and Tim Olive), Anne-Francoise Jacques and Martin Tetreault.