Having played live on many continents for the past 15 years mainly using turntables, computer I thought it would be time to introduce my new direction, using guitars built by Yuri Landman and processing them... Easy to install, I plug in the venue system and ready to go...
Other than that technical aspect, here are some biographical elements:

PHILIPPE PETIT is interested in soundtracks; releasing his music on 20+ labels (Sub Rosa, Important, Staubgold, Aagoo, Beta Lactam Ring, Monotype, Southern...)
A journalist for various magazines and radio as well as a musical activist, PETIT has celebrated his 29th year of sharing his musical passions as the man behind the cult labels Pandemonium Rdz. and BiP_HOp.

PETIT has assembled what people call a dream-team of collaborators, joining Lydia Lunch, Murcof, Cindytalk or Faust onstage, and also recording with: Eugene S. Robinson (Oxbow), Foetus, Edward Ka-Spel, Kumo, Scott McCloud (Girls Against Boys), Cosey Fanni Tutti, My Brightest Diamond, Sybarite, Pantaleimon, Graham Lewis (Wire), Barry Adamson, Scanner, Mira Calix, Kammerflimmer Kollektief, Guapo, Leafcutter John, Simon Fisher Turner, Jarboe, ASVA and many more...
Interested in soundtracks even if I create original music I'd rather be introduced as a "musical travel agent" than a
composer.

Since 2000 I have been playing all over the world...
Feeling lucky to release on several international labels such as Aagoo, Southern UK, Monotype, Alrealon Musique, Beta Lactam Ring, Sub Rosa, HomeNormal, Important, HelloSquare, Public Eyesore, Utech, Staubgold, etc...
The opener is a collaboration Philippe Petit did with Justin Broderick.
Petit was so happy with it that he felt an urge to produce more pieces in that vein and complete a whole suite. The idea was neither to give birth to one more Neo-Metal record, nor to one more Noise album, instead Petit dreamt of blending together Phil Spector's "Wall Of Sound" and Lou Reed's influential "Metal Machine Music"... Building dense mixtures of digital filtering in order to conjure up a mix of blurred melodies and themes, and feeding his Noïz with loads of twists and turns.
Our "French musical travel agent" explored countless paths and a couple of years later "Tales Of Fright" was born. Depicting some epic musical stories... Wandering through spaciousness and elegance, interspersing fuzzy-buzzing guitar and blissed-out-droney-drilling textures with post-orchestral or tribal rythms into incandescent and luxurious massive movements of sound.
Rarely has Fright been so alluring, Petit casts his spells on his listeners with a demanding album, but a very rewarding trip for those willing to be intrigued... released 04 April 2012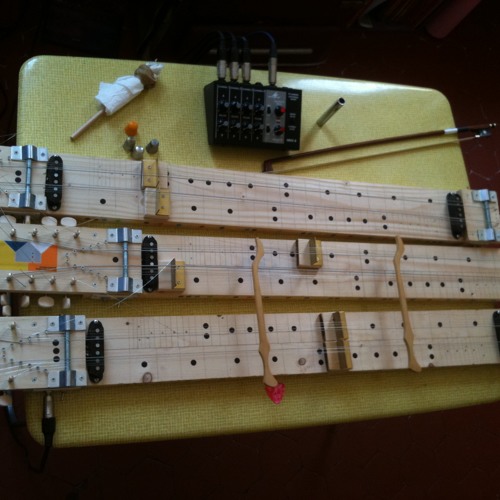 A filmic adventure where luscious string arrangements convey a whole world of emotion, and the organic sound of instruments is never outshadowed by machines.

"Post-Classical" soundtrack FOR FANS OF Kronos Quartet – Tom Waits - Efterklang – Brian Eno - Tunng - The Books - Max Richter...

"Cordophone" is a French word which refers to musical instruments whose sound comes from the vibrations of one or several strings.
CORDOPHONY shows Philippe Petit playing with string parts by many talented friends in order to create an imaginary world of dense mixtures of electro-folk acoustic instrumentation, post-classical orchestral arrangements filled with collected field-recordings, vanguard soundscapes, manipulations of glass and vinyls.
Petit's taste for risk-taking and for flights of sonic poetry has seen him working on musical motifs that can evoke at times a stormy, cinematic, or contemporary atmosphere. He has always favoured the human touch and thus no less than 20 instrumentists are participating to his most ambitious project: "Cordophony"

Pursuing a tradition he had started with his "Reciprocess" project, given away with The Wire magazine issue 301, Petit is benefiting from the talent of 18 of his friends-musicians, creating a mini-ensemble without whom nothing could be possible and emphasising that according to him music is a collaborative affair.
Even if he creates some original music Petit would rather be introduced as a "musical travel agent" than a composer :
"I try to tell a story, with a beginning and an end, invite you to share my world for a while. I edit and cut "sound-images", to process textures and their resonances into vertiginous travellings of tones ; conjuring up flashes of black & white grainy timbres, behind-the-sound close-ups, addictive stop-motion harmonic effects." Released 04 April 2012
http://www.philippepetit.info/